Home -> Download Adware Away
Adware Away is free to download. By clicking the button below you will download a scan-only version. Adware Away is the only product that doesn't provide a free trial version in anti-malware industry. We have 100% confidence to remove any malware for you with Adware Away and its customizing removal service.

When the file download dialog box appears click the "Save" button and save it to a place where you can easily find it such as your desktop.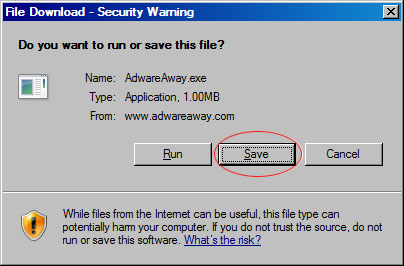 Wait for the download process completes and then you can double click on the downloaded file and follow the setup wizard to install Adware Away.
AdwareAway.com provides 24/7 technical support via email. Do not hesitate to contact us if you have any questions or suggestions.